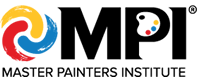 MPI is an independent agency dedicated to the establishment of quality standards and quality assurance in the architectural painting and coating application industries. When a product is approved by MPI, professionals know that that product has passed rigorous third-party performance tests, allowing them to be specified for various types of jobs, depending on their approval category.
Conco Paints products that are MPI approved can easily be substituted for other job-specified brands based on similar performance criteria, allowing you to bid on more jobs.
See All MPI-Approved Conco Products
Learn more about the Master Painters Institute at paintinfo.com.